William Gati  Born April 10, 1959, in Rio Di Janeiro, Brazil Initially trained as a classical pianist (he studied at Julliard from the age of 8), William Gati has been drawn to Jazz while studying with the great John Lewis (Modern Jazz Quartet). After graduating from City College (1981), he has played in various church venues and has been influenced by gospel music. He has also been involved in directing and performing in musicals and has been influenced by the Broadway Show style. His greatest strength, however, is in improvising and performing jazz standards and original compositions. He has been influenced by Lester Young, John Lewis, Herbie Hancock, Dr. Billy Taylor and Duke Ellington. He has performed with various local Jazz artist such as John Dooley (bass), Paul Beaudry (bass), Antoinette Montague (Voice), Mike Campenni (drums), Premik Tubbs (wind), Caroline Leanheart (vocals), Jeb Patton (Piano). He has played in Lincoln Center, Queens College, Forest Park Band Shell, Flushing Town Hall, Church in the Gardens, local halls and various other venues. He has three CD's independently produced called "Piece of Pie," "Box 0′ Chocolates," and "Intricate". All three recordings are collections of original jazz compositions written, performed and recorded by Mr. Gati.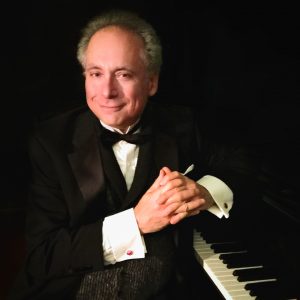 He explores various musical concepts in a true jazz style. William Gati is a talented saxophonist and vocalist. He believes that we must all let the music out from within us. His jazz style is soulful, smooth and technical all in various proportions. He loves to play straight-ahead jazz but particularly enjoys playing original compositions. His performances are lively and interesting because they are spontaneous and inspired by the moment. He will play the piano, play the saxophone and sing. He can put on a very entertaining, creative and memorable performance.
The piano player won us over from the start
"I do not intend to over-hype this restaurant, but I actually had the most romantic night of my life at Water's Edge. I brought my girlfriend for her birthday, just a few days before Christmas. The piano player won us over from the start, the food carried our taste buds to places they had never been, and the service was delightful. The pianist played our personal request of Have Yourself A Merry Little Christmas to end the night, and we walked onto the deck outside to gaze across the beautiful New York skyline. What a view! This place is unreal: biggest filet, best potatoes, and most delicious crab cakes I have ever tasted. Again, I do not intend to over-hype this restaurant, but in all honesty, this was undoubtedly the best night of my life."
Dined on 12/21/2013
I want to thank you for being such a loyal friend to the Center for the Women of New York.
Every year, for the last twelve years, when it is time for our anniversary luncheon, I reach out to you to provide that special touch of an atmosphere of quiet elegance and warm feeling of anticipation of being in a special place and sharing an important event with interesting people.
I am sure that many times, special events, dinners, weddings, can be ruined by music that was so loud the guests could not hear the conversation or their table companions.
Your music, whether you chose piano or special performance with saxophone, was always the proper entertainment which was responsive to the mood and tone of the event and what was going on at the time. We have received many comments from our guests that enjoyed hearing you.
In addition, you always contributed your performance to help us continue with our service, That we why we gave you our "Good Guy Award" last year and hope we can look forward to having you share our next anniversary event.
Ann J. Jawin – President: Center for the Women of New York
"Bill Gati was very professional. The music was great and everyone had a great time."
– Diana G.
"William Gati was prompt, professional and personable. His playing style and music selection fit the tempo and mood of the party to a "Tee". Bill and his piano rounded out a perfect afternoon of celebration. Thanks, Bill!"
– Patricia G.
"I very much enjoyed Mr. Gati's song choice and I am looking forward to hiring him again next year."
–Geanine W, New York, NY
"He was friendly, easy going and wonderful to work. eager to please and accommodating. Thank you!"
–Irwin K, Manhattan, NY
"I had a last minute request for a Saxophone player from a bride and Bill got back to me immediately. He is extremely talented and very professional. He even took it upon himself to call the venue and speak with them about his set-up and performance. He has a large array of music to suit anyone's needs. All of the guests and the bride were thrilled with his work and couldn't have been happier!!"
–Taylor S, New York, NY
Bill Gati was very professional. The music was great and everyone had a great time.
–Diana G, Scarsdale, NY
Bill was fabulous. He is very versatile and made the party special. I highly recommend him.
–Joy G, Woodbury, CT
Pianist shares gift of love on Valentine's Day

Some of life's most cherished moments cannot be seen, but heard and felt, which was proved by Kew Gardens resident and piano virtuoso Bill Gati, who made Valentine's Day in Forest Hills one to remember.

Gati treated his neighbors to a nearly two-hour free concert featuring romantic jazz classics and five original compositions. With the snowfall in sight, 75 concertgoers enjoyed his inspirational sounds at the Church-in-the-Gardens at 50 Ascan Avenue.

"My sweetheart and I are so blessed, and wanted to share the love with others," Gati said. "Bringing people together is truly wonderful, and there's no better time than Valentine's Day."

Engaging his audience with his sense of humor, Gati opened his show by taking requests. Among the solo numbers were "My Funny Valentine," "Somewhere Over The Rainbow," "Let's Fall in Love," "Unforgettable," and "Moon River."

He made sure to extend the spotlight to other talented vocalists including Cassandra Hawkins, who he accompanied on a soulful "Misty" and "How High the Moon," as well as to Susan Horowitz, who delivered a beautiful rendition of "La Vie en Rose."

Between compositions, Gati shared some stories.

"I told my piano teacher that I wanted to play Gershwin's 'Rhapsody In Blue,' and he said we don't play Gershwin at Juilliard," he said. "After insisting, I was able to perform it at Lincoln Center because my teacher was progressive in the 1970s. Today, Juilliard has a jazz program."

At a festive reception organized by Kim Phelan, Sabiha Lakhani and Christian Villarreal, guests enjoyed wine, cheese, and holiday sweets. Each guest also received long-stemmed white roses, boxed chocolate hearts, and handwritten greeting cards. After the concert, Gati participated in a detailed discussion about his craft.

"Music is very soothing to the soul," said Gati, who hopes to leave an impression on younger generations. "Pursue your passion, but also have a plan B. As much as I love music, I decided to become an architect, which offers a good balance and ensures a steady income."

His skills as an architect are reciprocal to his musical talents.

"My original piano compositions were in the style of 1920s and 1930s-era jazz, which I feel is the height of American music," and then compared it to two of his Art Deco favorites, the Chrysler and Empire State buildings.

Gati, 55, began playing at the age of five and later picked up the saxophone at 35. He also mastered the organ, electric keyboard, and the percussion family. He was born in Rio de Janeiro, settled in Middle Village as a small child, and moved to Kew Gardens in 1984.

He attributes his talents to genetics; his grandmother played piano, his father played piano and violin, his brother plays violin, and his grandfather who was an architect in Hungary.

Gati plays throughout Queens, and has given performances at Flushing Town Hall, Queens College and the Forest Park Bandshell, Queens Museum. Philanthropic causes are also part of his mission.

"I volunteer by playing pop-up pianos for Sing for Hope, where musicians perform in hospitals and shelters while raising consciousness about the importance of music," he said. "I also played at The Coler-Goldwater Specialty Hospital for terminally ill patients and for several nonprofit organizations."

Gati will be performing at Long Island City's Water's Edge Restaurant on several upcoming Friday and Saturday nights and for free at the Forest Hills Library on April 18, July 18 and October 17. Visit his website at www.apianoman.com for more information.

Read more:Forest Hills Times – Pianist shares gift of love on Valentine s Day